Marketing dollars are often throttled when market conditions are not promising. Ironically yet, the mantle to bring momentum back sits squarely on the CMO's shoulder. 
When faced with conflicting priorities, you need to adopt strategies, processes and techniques that will help you to adapt to external changes and to steer the organization through the uncertainty. Most companies are right now focusing on marketing automation and finding innovative ways to increase ROI. With several options available, it can be difficult to find a complete marketing automation solution that suits your changing needs. 
Ambit Software and SugarCRM invite you to join this webinar to help you answer some of your key marketing automation challenges and give you the ability to control and manage marketing campaigns with well-informed decisions for best Marketing ROI. 
Pick valuable insights from our hosts:
Logan Henderson, GM - Sugar Market, SugarCRM

Gopal Vaidyanathan, Senior Vice President, Ambit Software
There will be Q&A session at the end of the webinar where you will get the chance to ask your questions to our experts
Relevance of marketing during uncertain times

Guidance on "mapping" out a plan for the next 12 months

Reduce cost and improve ROI

Sugar Market - a function-rich, easy to use marketing automation platform from SugarCRM

Key takeaways of the webinar will be available to all attendees through a free whitepaper, "Growth Marketing during Uncertain Times", written exclusively by our marketing experts.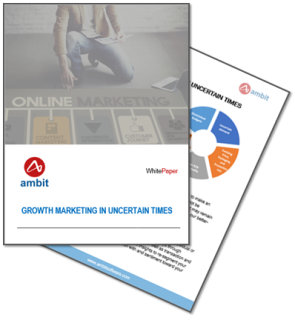 To get your free whitepaper about "Growth Marketing during Uncertain Times", fill the following form and we'll send you the copy.
© 2020 Ambit Software | All rights reserved